NEWS Section, whatch the progress
30.10.2015
Kits for self soldering will be prepared. If you want one mail asgi99 at gmx.de.

01.06.2013
Turbo-Sound GAL available, for operatin 2 cards -> 6 sound-channels. Sold by sellmyretro.com.

28.12.2012
English manual now in the download section available.

20.12.2012
MrX is now sold at
http://www.sellmyretro.com/
just search for MrX.
03.12.2011
Download section now active.
01.12.2011
Series production started. We'll expect first unsoldered PCBs on the 20th Dec. 2011

17.11.2011
Hurra! The latest prototype works. This will go into production after some tests.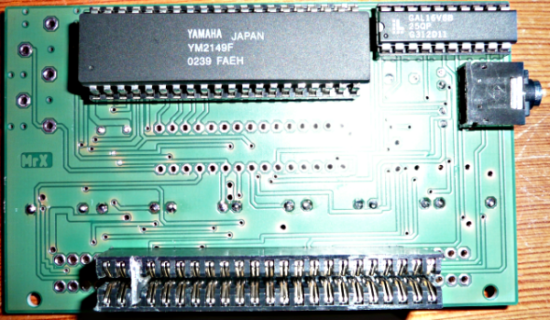 01.10.2011
Improved layout for a standing version finished, prototype PCB is ordered.
08.08.2011
PCB arrived! Soldered works.
10.07.2011
Layout finished,first prototype PCB is ordered
Na, das dürfte reichen :-)